Noua colecție de cești în ediție limitată illy Art Collection Biennale, "The Milk of Dreams", lansată cu ocazia Bienalei de Artă Contemporană 2022 de la Veneția, poate fi achiziționată acum de pe site-ul www.coffeeandme.ro, distribuitorul oficial illycaffè în România și văzută în premieră într-un showcase în cadrul festivalului DIPLOMA Show 2022, în perioada 7-16 octombrie, la Combinatul Fondului Plastic.
"The Milk of Dreams" este selecția curatorului Ceciliei Alemani pentru illy Art Collection și descrie o lume magică în care viața este reinventată constant prin prisma imaginației, o lume în care este posibil să te schimbi, să te transformi și să devii altceva decât tine însuți.
Artiștii invitați să creeze illy Art Collection sunt Felipe Baeza (n.1987, în Guanajuato, Mexic. Trăiește în New York), Giulia Cenci (n.1988, în Cortona. Trăiește între Cortona, Italia și Amsterdam), Precious Okoyomon, (n. 1993, la Londra, Marea  Britanie. Trăiește în New York City),  Alexandra Pirici (n. 1982, la Bucureşti și trăiește în București, România), Aki Sasamoto (n. 1980, în Kanagawa, Japonia. Trăiește în New York City) și Cecilia Vicuña (n. 1948, la Santiago, Chile. Trăiește în New York City).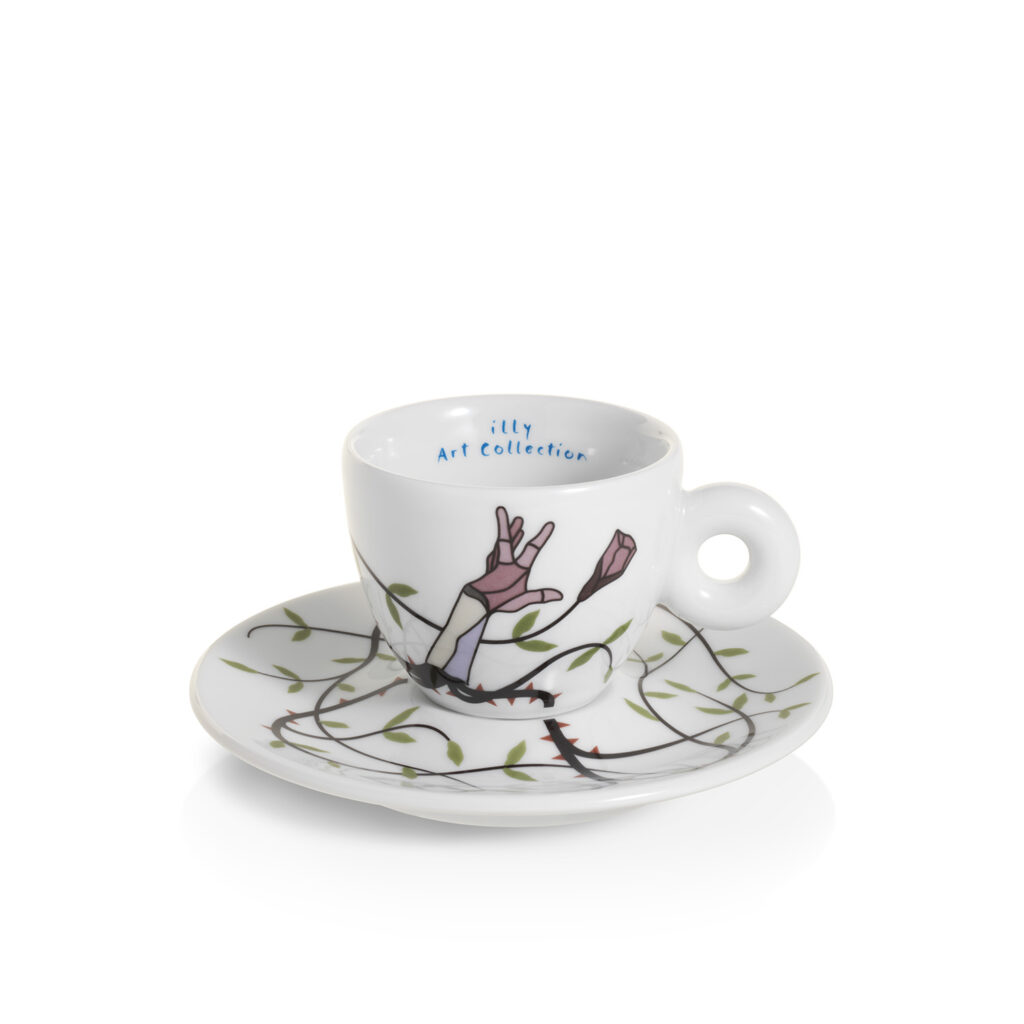 "Deși este legat de o formă atât de emblematică precum cea a ceștii illy, fiecare dintre ei a reușit să transforme acest mic obiect de zi cu zi într-o fereastră în propriile imagini. Pirici, în concordanță cu pregătirea ei de dansatoare și coregrafă, și-a folosit amprentele digitale pentru a crea un motiv vegetal care unește ființele umane și natura; Sasamoto a desenat o trambulină pe farfurie, imaginându-și ceașca sărind spre buzele persoanei care își soarbe cafeaua; Baeza și Vicuña au desenat / selectat direct din munca lor.
Baeza a creat imagini cu corpuri hibride și migrante, în timp ce Vicuña se înfățișează zburând goală, ridicată de energia propriei poezii. Okoyomon a dedicat o poezie-invocație scrisă de mână persoanei care bea din ceașcă; în timp ce Cenci, sculptor, s-a uitat la transformarea materialului, creând un joc de reflexii între suprafața oglindită a ceștii și o fotografie a câmpurilor cultivate, făcută în apropierea atelierului ei.
Îmi place să-mi imaginez că, în timp ce țin aceste cești în mâini, oamenii se vor gândi la artiști ca la niște însoțitori într-o călătorie imaginară, dezvoltând o relație intimă și foarte personală cu fiecare dintre aceste minți vizionare." – a povestit Cecilia Alemani.
"Suntem onorați că printre artiștii care au creat ceștile în ediție limitată illy Art Collection Biennale 2022 se află românca Alexandra Pirici. The Milk of Dreams este deja una dintre colecțiile memorabile", a declarat Mirela Ionescu, Marketing Manager Pro Brands România.
Colecția illycaffè Biennale de cești în ediție limitată poate fi achiziționată în variantele de 2 cești și 2 farfuri de espresso, respectiv cappuccino, precum și într-un set complet de 6 cești și 6 farfurii de espresso, respectiv cappuccino.
illy Art Collection a fost creată în anul 1992, din pasiune pentru cafea și din dragoste pentru artă. 30 de ani mai târziu, galeria de cești illycaffè în ediție limitată se mândrește cu nume notorii din lumea artelor, precum Yoko Ono, Marina Abramovic, Olimpia Zagnoli, Robert Rauschenberg, Ai Weiwei, Jeff Koons, Anish Kapoor, Francis Ford Coppola, David Byrne, Maurizio Galimberti, Marc Quinn.
Din 2006, illycaffè a extins proiectul Art Collection și pentru cutiile de cafea.